When it comes to planning a beach holiday, many of our minds wander abroad, envisioning tropical islands with gorgeous sandy beaches, yet some of the world's most extraordinary coastlines and beaches are located right here in Great Britain! We've put together a list of the 10 most remarkable beaches you will find in the UK.
1. Rhossili bay, Gower Peninsula South Wales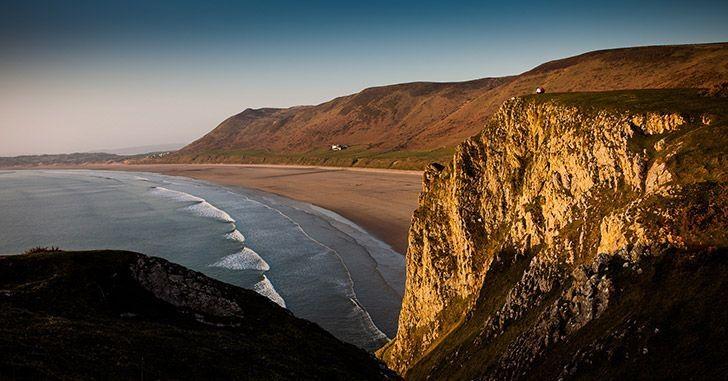 Rhossili Bay sits on a remote beach on the Gower Peninsula which can be accessed via a steep rocky path descending from the small village of Rhossili. There is no shortage of vantage points in the area, one being from Rhosilli Down which is the highest point, just north of the village behind the beach. From here you can see across to West Wales, Lundy Island and the North Devon Coast. At the southern end you can reach the tidal island of Worm's Head. This is accessible during low tide across a rocky causeway, where you might find a herd of grey seals lazing on the rocks below!
2. Weymouth beach, Dorset
Weymouth beach is full of character being only a few minutes' walk from its bustling coastal town and its historical harbour. This curving arch of sand expands for 3 miles, with the famous Dorset hills hugging the coastline. It remains a popular beach destination for families due to its notably shallow and safe waters, which are ideal for swimming and its soft sand provides a very comfortable cushioning for that afternoon nap as you soak up the sun! The local town holds plenty of family fun entertainment with the much-loved Punch and Judy puppet shows still making passers-by giggle! You can even take a donkey ride along the seaside and get a load of the various live music playing down the strip.
3. Woolacombe Beach, Devon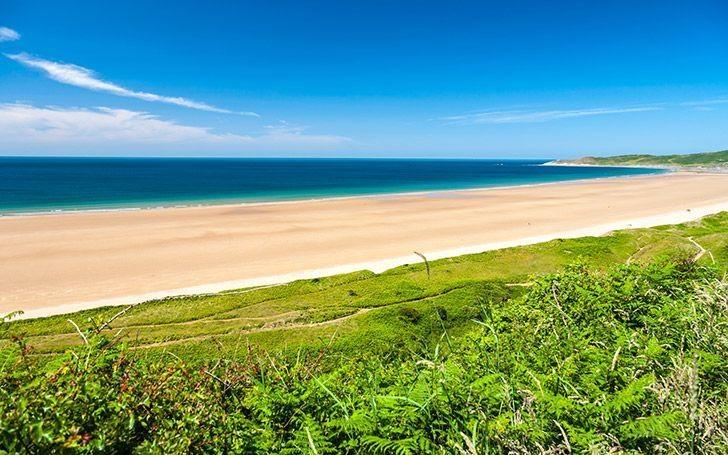 Woolacombe Beach is an award-winning beach, twice bagging the award for TripAdvisor's best beaches in Britain. This lovely seaside resort which lies at a mouth of a valley (or combe) on the coast of North Devon between Morte Point and Baggy Point, is a highly popular destination for families and can attract up to thousands of visitors during its peak months. However, you'll always manage to find a quiet spot down the beach to enjoy for yourself, as the sands stretch along for a total of 3 miles. The waters are also famous for their cleanliness and quality and rolling waves from the Atlantic Ocean create excellent conditions for surfing.
4. Hengistbury Head, Bournemouth, Dorset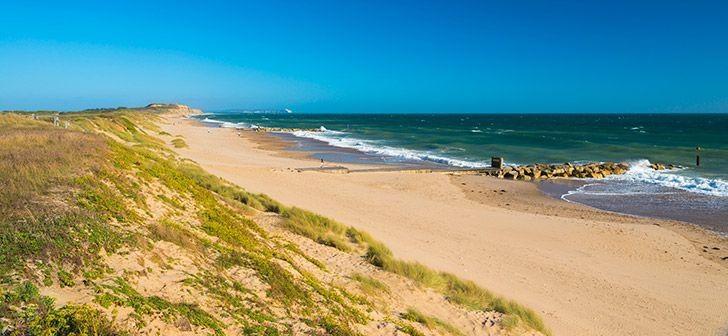 Hengistbury Head beach is situated between the town of Bournemouth and the small village of Mudeford. As one of the quieter beaches in Dorset, it proves to be the ideal location to spend an enjoyable day with your family, avoiding the many crowds. Close by, 162 hectares of the Hengistbury Head Local Nature Reserve awaits to be explored! It provides a brilliant opportunity to discover the local woodlands, saltmarshes and meadows, which accommodates a myriad of wildlife. On a clear day, you should keep an eye out on the horizon, as you may catch a glimpse of the famous Needles (a row of three distinctive stacks of chalk that rise out of the sea) on the Isle of Wight. Just remember to pack your binoculars!
5. Blackpool Sands Beach, Devon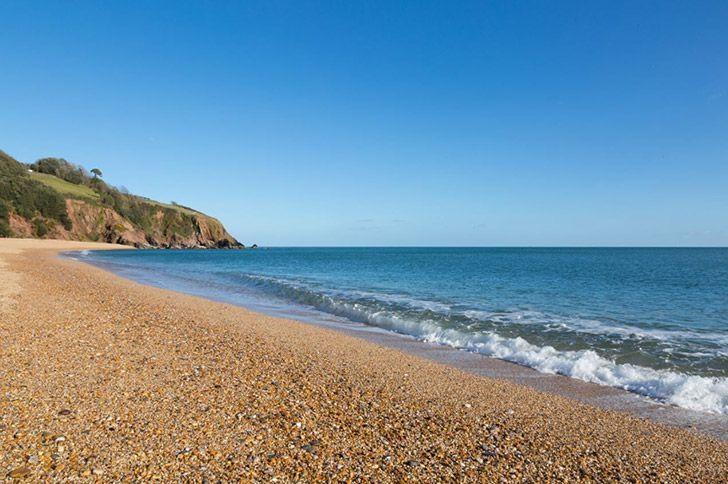 https://www.bluechipholidays.co.uk/devon/dartmouth-kingswear/blackpool-sands-beach
Blackpool Sands Beach is situated on the South Devon heritage coast in an Area of Outstanding Natural Beauty (AONB), where it is being conserved due to its significant landscape value. The neighbouring hills are home to gorgeous evergreens and pines contrasting beautifully with the golden beach below. At just under a mile in length, the beach itself is a combination of fine shingles and soft sand and is renowned for its clean and clear waters. Having marvelled at the views, you may want to get involved in one of the many water sports available (kayaking, paddle boarding and much more).
No doubt you'll be quite hungry after all that excitement, so why not grab a bite to eat at one of the many beach cafés and restaurants offering a variety of foods to suit the family, from fresh seafood to traditional fish and chips. If you're feeling adventurous, you can travel 2.9 miles to Quay Side, where you can jump on a picnic boat tour!
6. Luskentyre, Isle of Harris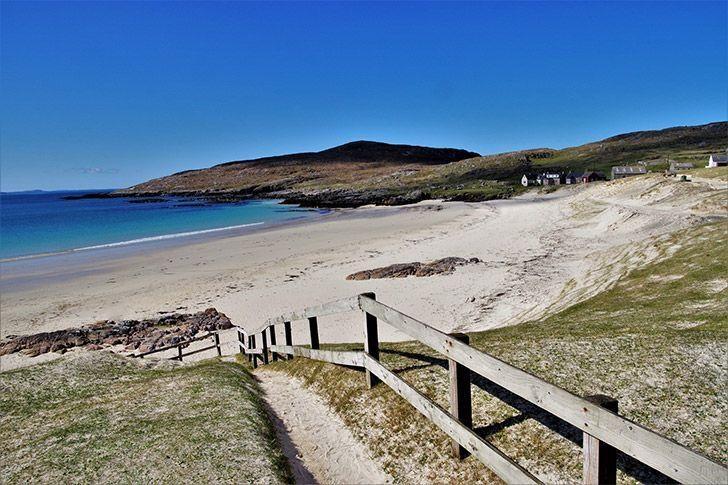 Luskentyre beach sits hidden on the northwest coast of the Isle of Harris in Scotland. Due to its secluded location, the beach rarely hosts a crowd of people even in its peak seasons and is ideal for low-key activities. It's shallow, turquoise waters which wash along the fine stretch of white sand are perfect for evening strolls down the beach and appears to extend for miles at low tide. The surrounding hills are great for long hill walks and cycling, allowing you to really explore this beautiful coast. Views of the North Harris mountains bless the horizon making for one of Britain's most breath-taking coastal views, setting the scene for some truly Instagram-worthy photos. So, if you're looking for a peaceful getaway, Luskentyre beach should definitely be added to your destination list!
7. Porthminster Beach, St Ives, Cornwall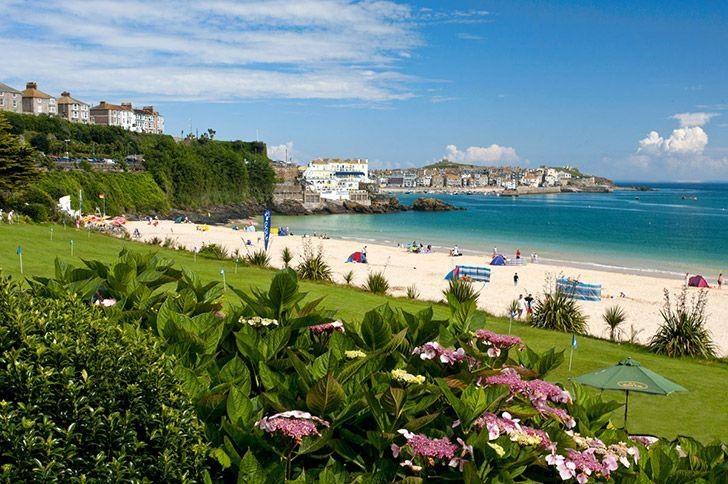 Porthminster Beach holds impressive views of St Ives bay and stretches as far as Godrevy Lighthouse. With a beach like this, there really is no need to go abroad. Lush palm trees border the beach which gently curves along the Cornish coast where it meets an emerald green ocean – a photographer's paradise! The water along this beach is also very calm which makes for excellent costal walks. What's more, the sand here is perfect for making sandcastles so get your bucket and spades ready!
Although a sheltered beach, it sits only minutes from the centre of St Ives creating a lovely mix of a town and beach atmosphere. Here you can visit some contemporary art galleries with sole focus on British artists or if art isn't your cup of tea, there is always outdoor mini golf alongside the beach!
8. Barafundle Beach, Stackpole, Pembrokeshire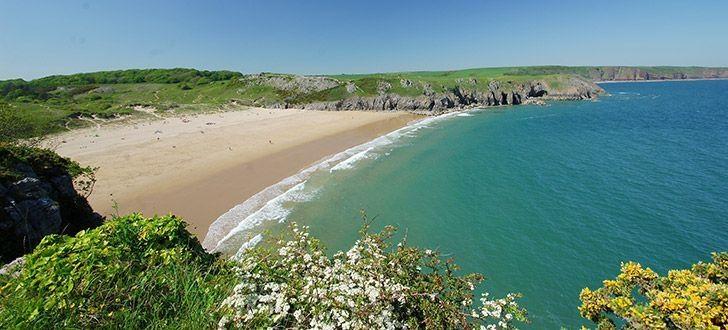 Making your way down to Barafundle Beach is a delightful experience in itself; accessed by a hidden cliff path from Stackpole Quay, you pass through flourishing woodlands and scenes of vast green-topped sand dunes. Upon stepping foot onto the soft sand, you will walk through a beautiful stone archway welcoming you to this wonderful secluded beach. Here you can enjoy a relaxing swim in the green-blue ocean or maybe explore a bit further while kayaking. This is very popular amongst families visiting here, as there are many hidden creeks and small coves which provide a great opportunity for exploration.
If you wish to have a quiet moment to reflect, the dramatic limestone cliffs which flank the coast prove to be a brilliant spot to take in the landscape which surrounds you (and you may even spot breeding birds, like the Heron).
9. Saunton Sands Beach, Braunton, Devon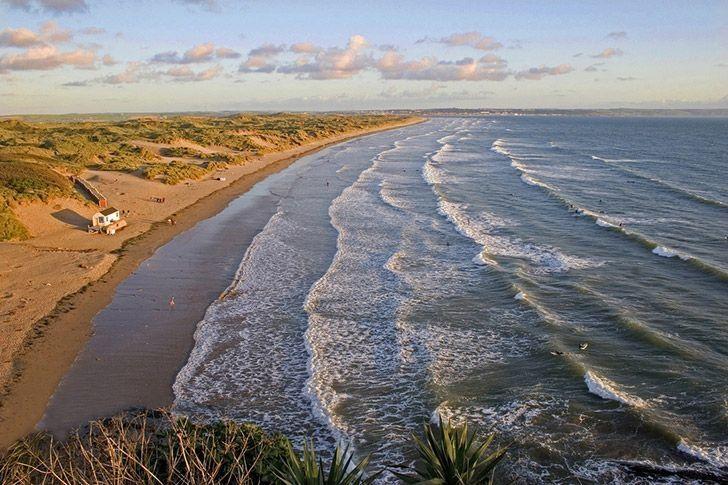 Saunton Sands Beach is a 3-mile long stretch of beautiful golden sand along the North Devon coast facing west, making for an excellent spot to view the setting sun over the horizon. It is backed by Braunton Burrows, one of the most impressive and largest dune systems in the UK (1000 hectares!) If you make your way up to Crow Point, you will get remarkable ariel views of the dunes. But, extraordinary views aren't all that Saunton Sands has to offer, there's plenty of fun activities to get involved in, especially if you're a water sports fan. As well as being a popular longboard surfing location, it is a hotspot for a number of other activities including kayaking, paddle boarding, and kite surfing. Furthermore, it's home to an array of wild flowers and butterflies if you fancy something besides sandcastles and sunbathing!
10. Fistral Beach, Newquay, Cornwall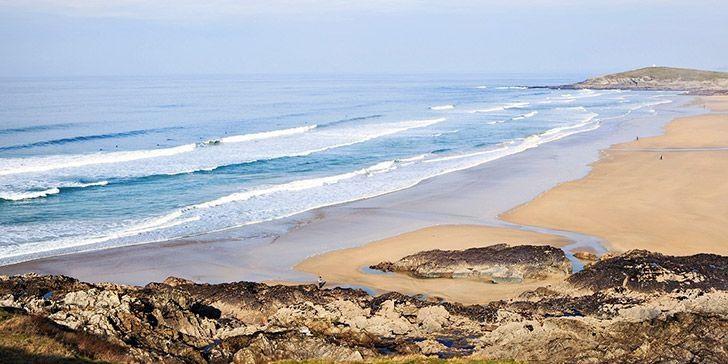 Situated on the north coast of Cornwall, Fistral Beach is one of the most iconic beaches in Newquay and is known as the home of British surfing. Backed by dramatic rocky cliffs and overlooking the Atlantic Ocean, this lengthy beach is comfortably embedded between two headlands; Towan to the north and Pentire to the south. There's always something exciting going on at Fistral Beach as it hosts a number of events and festivals throughout the year including Europe's largest surfing and skating festival! After your busy day at the beach, if you're looking to retire for a peaceful night, the Headland Hotel is the place to check in. This luxury spa and hotel is most desired place to stay in the area, as only 2 minutes from the beach, it offers breath-taking coastal views and exclusivity from the masses out crowds below.
Disclaimer: All prices contained in this article were correct on the original date of publication. Prices may change over time, so for current prices, please get a quote.