Isle of Skye by John Gulliver
If you're looking for an unforgettable holiday, Scotland offers some truly unique scenery. A vast network of roads and motorways connects Scotland, meaning a road trip full of gorgeous vistas unlike anywhere else is just a stone's throw away from home!
Instead of using your own car, hiring a rental can provide flexibility and safety by allowing you to choose the most suitable vehicle for the route you plan on driving. By choosing a larger camper van, for example, you can save by not having to spend extra money on hotels or B&B's during your holiday.
Edinburgh
One of the best places to start your road trip is Edinburgh. Easily accessible via airport or by the A68 from England, Edinburgh is rich in history and deserves at least a couple of days to visit.
Check out the historic Edinburgh Castle that overlooks the entire city. Located on Castle Rock, the site has seen human occupation since the Iron Age. The castle has played a prominent role in Scotland's history and has been the site of many battles and conflicts. While you're in Edinburgh, make sure to experience the shopping on Princes Street, as well as local sites such as St Giles Cathedral, the haunted Mary King's Close, and Rosslyn Chapel.
From Edinburgh, you should head northwest along the A85, enjoying the beautiful scenery of the Loch Lomond and the Trossachs National Park along the way.
Continue onto the A82 to take in such famous spots as Bridge of Orchy, Glencoe, and the UK's highest summit, Ben Nevis. Just beyond Fort William lies the famous Glenfinnan Aqueduct, which like Glencoe, was used as a filming location for the Harry Potter films!
Isle of Skye
Fairy Pools by fs999
The Isle of Skye is home to a host of hiking and bike trails, and has many natural and historical sites to consider.
From Fort William, take the A830 west to Mallaig and then take the ferry to Skye. If you're a history buff, hike out to the ruins of Knock Castle, just off the A851. Originally built in the 15th century by the MacDonald clan the ruins are said to be haunted by a gruagrach known as the Green Lady.
If you are looking for attraction that is more natural, at the foot of the Black Cuillins in the Glen Brittle Forest are the famous Fairy Pools of Skye. You can also hike or cycle along the nature paths in Glen Brittle and take in the breath-taking beauty of Skye.
On your way back down south, take the A87 to check out the rock pinnacles of The Storr, where the opening scenes of Prometheus were filmed. After you've had your fill of the Isle of Skye, continue on the A87 and head over to Inverness.
About a two and a half hour drive from Portree, Inverness is a good start for exploring the central Highlands. Before going further south, make sure you check out the iconic Loch Ness and the remains of the Urquhart Castle.
Central Highlands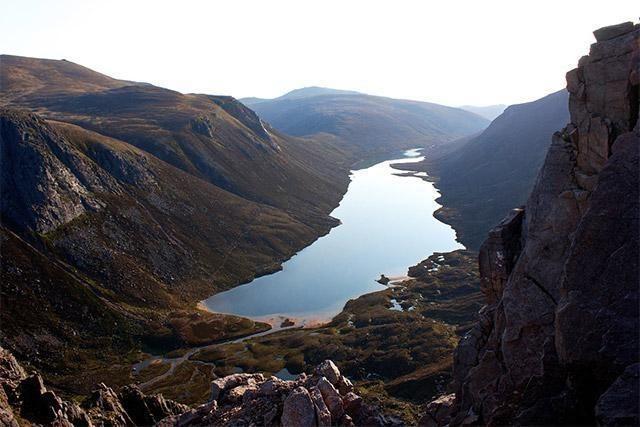 Lock Avon by Nick Bramhall
Take a short drive south along the A9 from Inverness to explore the Cairngorms National Park. Filled with various landscapes and views, you'll be spoilt for choice for activities.
Mountain biking, hiking, guided walks and more are all available within the park. Snow sports are also available during the winter months. You should check out the park's calendar as well to see what activities are available at the time of your visit!
There are also camping grounds within the park, so why not save on hotel fees and set up camp in your rented camper van? Once you've passed through the National Park, make your way south to Stirling along the A9 via Perth.
It's been said that whoever holds Stirling Castle, holds Scotland. Stirling Castle is one of the most important castles in Scotland. Generations of Scottish royalty made their home in Stirling Castle, and it's close to where the Scots defeated the English army in the 1297 Battle of Stirling Bridge.
After days of historical castles and gorgeous landscapes, it's time to head home. From Stirling, it's merely an hour's drive back to Edinburgh.
Considerations
Many of the major car hire companies offer a range of camper vans and motorhomes. However, there are also smaller, independent companies that specialise in camper van hire such as Quirky Campers, Go Bongo and Wicked Campers. Therefore, if you are considering hiring your own camper van, you should shop around for the best deal in relation to your preference and where you'll need to pick your vehicle up.
Whether you hire a car or a camper van, you'll need to make sure you are covered with adequate insurance before you set off across Scotland's roads. Most hire companies provide third party insurance and a collision damage waiver (CDW) that will protect against damage and loss in the rental agreement.
However, if you have an accident or your vehicle is stolen, you will probably still have to pay a sizeable excess to the rental company. When you pick up your car, most hire companies will attempt to sell you an excess waiver that reduces the excess you're liable to pay. However, excess waivers sold by car hire companies tend to be very expensive, and in some case can double the cost of car hire.
Excess insurance – iCarhireinsurance.com's equivalent product – reimburses the excess you pay to the rental company should you have to claim against damage or loss to your rental car and is up 70% cheaper. To search for the excess insurance you need to give you peace of mind on your scenic Scottish road trip, click here now.
If the route described in this scenic Scottish road trip inspires you, please take the time to like or share it on your preferred social network.
Disclaimer: All prices contained in this article were correct on the original date of publication. Prices may change over time, so for current prices, please get a quote.