If you're having a "staycation" this year rather than a holiday abroad then have a look at our list of some of the best beaches in the UK so you can make the most of your holiday at home!
1. Woolacombe Beach, Devon

Woolacombe is a seaside resort based on the coast of North Devon, which lies at the mouth of a valley or 'combe'.
The sandy beach is 3 miles long near the western limit of the Bristol Chanel. It is situated between Morte Point and Baggy Point and its sands and water are famous for their cleanliness and quality. It's also a very popular destination for surfers and has won many awards including TripAdvisor Best English Beach 2014 and Tripadvisor 5th Best Beach in Europe 2013.
2. Weymouth beach, Dorset
Weymouth beach is a curving arc of sand for a three-mile stretch situated in Weymouth bay, a short walk from Weymouth town in Dorset. It holds plenty of entertainment for the whole family to enjoy including Punch and Judy puppet shows, donkey rides, live music and a summer fireworks display. The views are also spectacular which includes the Jurassic Coastline!
3. Rhossili bay, Gower Peninsula South Wales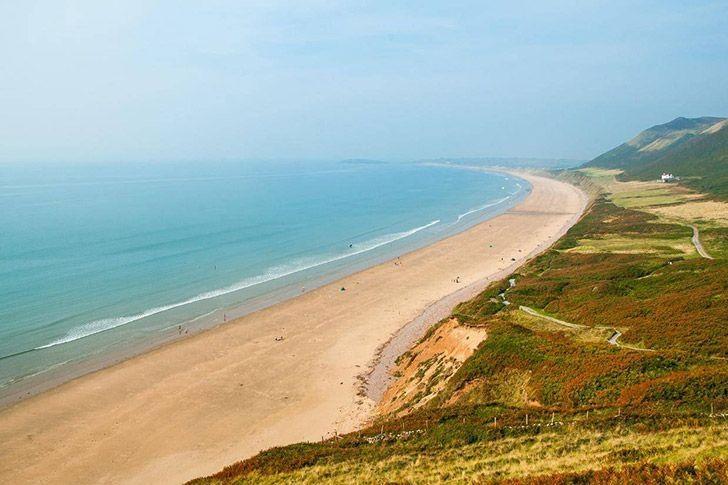 Another contender for one of the best beaches in the UK, Rhossili bay is another 3 mile long stretch of golden sands. From the top of Rhossili Down you can see across to West Wales, Lundy Island and also the North Devon coast. If you're there while the tide is out you can walk across the causeway to the tidal island of Worms Head where you can find grey seals lazing on the rocks below!
4. Porthminster Beach, St Ives, Cornwall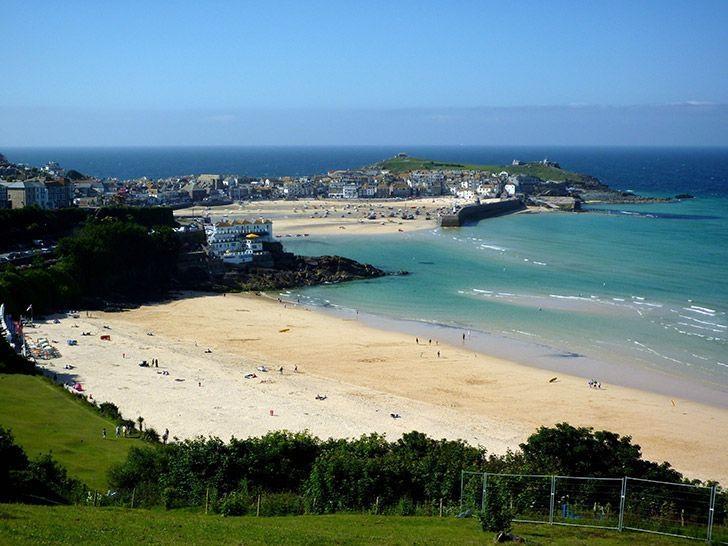 Porthminster beach has impressive views of St Ives bay and stretches as far as Godrevy Lighthouse. The water along this beach is also very calm which makes for excellent costal walks. What's more, the sand here is perfect for making sandcastles so get your bucket and spades ready!
5. Perranporth beach, Cornwall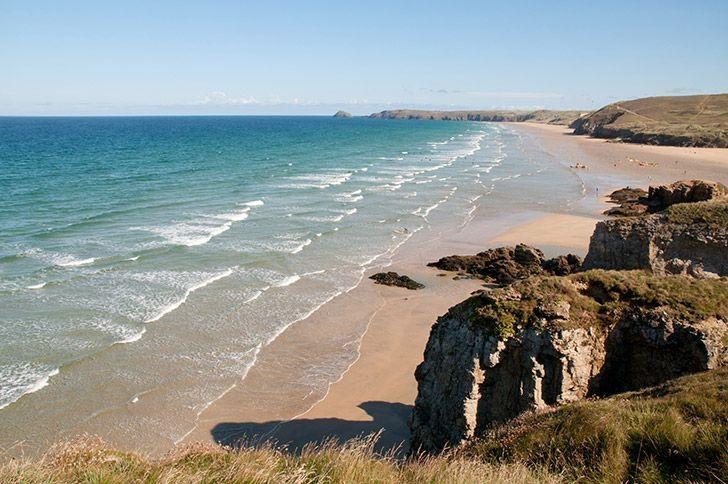 Perranporth beach is deemed one of the best beaches for surfing, snorkelling, sailing and general water activities in the UK. The golden sands stretch for several miles with the added extra of sand dunes, rock pools, caves, a stream and Chapel Rock which includes a small bathing pool on its seaward side which are all definitely worth an explore.
6. Luskentyre, Isle of Harris

Luskentyre is hidden on the northwest coast of the Isle of Harris; shallow, astonishing blue coloured waters wash this long stretch of white sand. Surrounded by the Outer Hebrides which, combined with the soft sand and amazing sea, create one of Britain's most wonderful and breathe-taking views which sets the scene for some amazing photo moments!
7. Hengistbury Head, Bournemouth, Dorset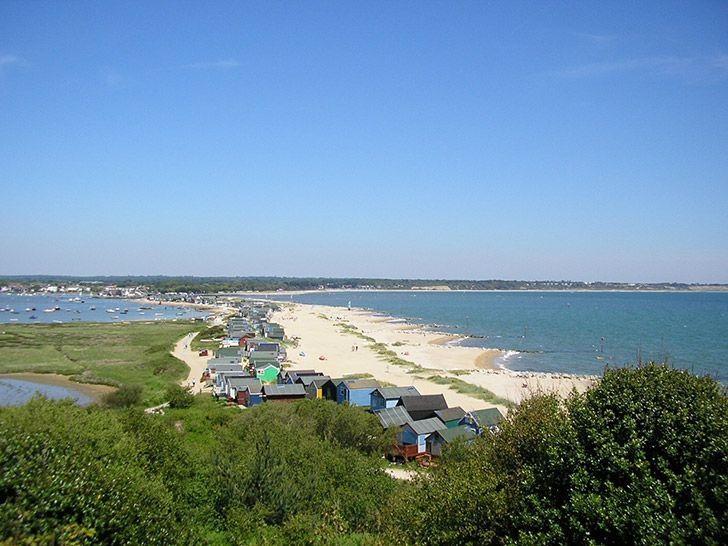 Hengistbury Head beach is located between Bournemouth and Mudeford, a sandstone headland which forms part of Southbourne. It boasts amazing views across its long stretch of beach and it's also right next to Bournemouth town centre, which makes this beach one of the best due to its location. As well as that it includes a host of nature facilities including a nature reserve.
One of the top attractions to this great seaside town is that the town centre actually overlooks the seven miles of golden soft sand. This extremely long beach provides plenty of space for families in the summer, especially if you want to build lots of sandcastles! As well as that it boasts awards for cleanliness. On a clear day you may be able to see across to the Isle of Wight where you might even see the Needles (The Needles is a row of three distinctive stacks of chalk that rise out of the sea), What more could you want so close to a major bustling town?
8. Sandbanks, Poole, Dorset

Sandbanks is a small peninsula which crosses the mouth of Poole harbour on the English coast in Poole. The sandbanks and Canford Cliff's coastline area have been fondly named as "Britain's Palm Beach" by the national media. One of its iconic attractions is the Sandbanks Chain Ferry, which travels between Sandbanks and Studland which crosses at the mouth of Poole harbour. The beach is one of the best beaches in the UK with its fine golden sands which gradually gradient into the water, it also has lifeguards on hand in the main season as well as a First Aid post if required.
9. Saunton Sands Beach, Braunton, Devon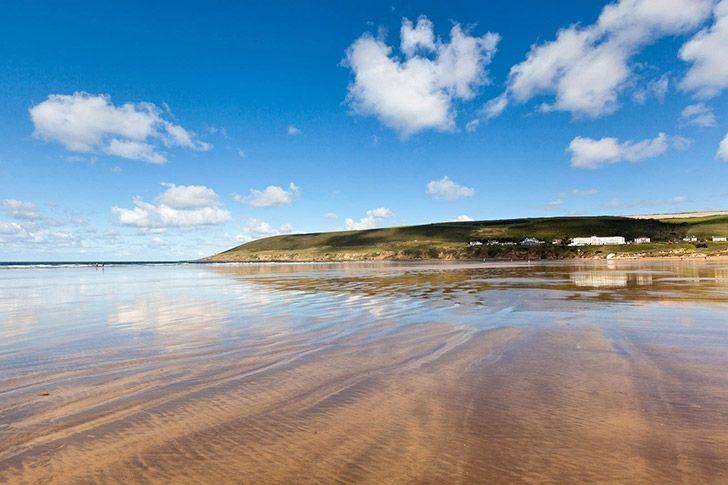 Another 3-mile stretch of golden sand beach backed by the continuing spread of Braunton Burrows which provides one of the most impressive and largest dune systems in the country. Saunton Sands beach faces west with its huge expanse of sand, which makes it perfect for families either having a weekend break or a holiday at home. Its also a hotspot for long board surfers as well as other water sports which include kite surfing, kayaking and paddle boarding. Furthermore, it's home to a myriad of rare plants and butterflies if you fancy something besides sandcastles and sunbathing!
10. Barafundle beach, Stackpole, Pembrokeshire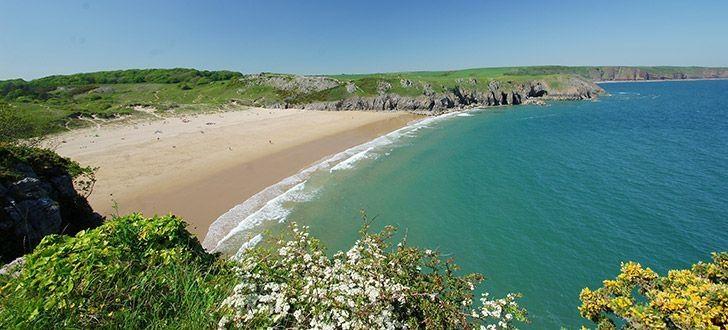 Barafundle beach is reached by cliff path from nearby Stackpole Quay, where you will see green-topped sand dunes and amazing woodland throughout the area. This will make the starting journey to the beach ever so exciting; after walking through the beautiful stone archway you'll find this secluded beach with its blue waters and golden sands which is very popular with families for swimming as well as kayaking to explore other small coves and creeks which is set between impressive limestone cliffs this secluded beach with its blue waters is very popular with families for swimming and also kayaking to explore other small coves and creeks
Disclaimer: All prices contained in this article were correct on the original date of publication. Prices may change over time, so for current prices, please get a quote.