Europe is home to some truly spectacular landscapes. From immense, ice-capped mountain ranges to vast stretches of lush woodlands, each location brings a brand-new driving experience. As public transport can only take you so far, it's time to get behind the wheel of your holiday rental car and explore the lands via these unforgettable scenic roads in Europe.
The Amalfi Coast Drive - Italy
Distance: 50km/30 miles
Fun Fact: Originally built by the Romans. Most recently featured in Marvel's Wonder Woman as the fictional island, Themyscira.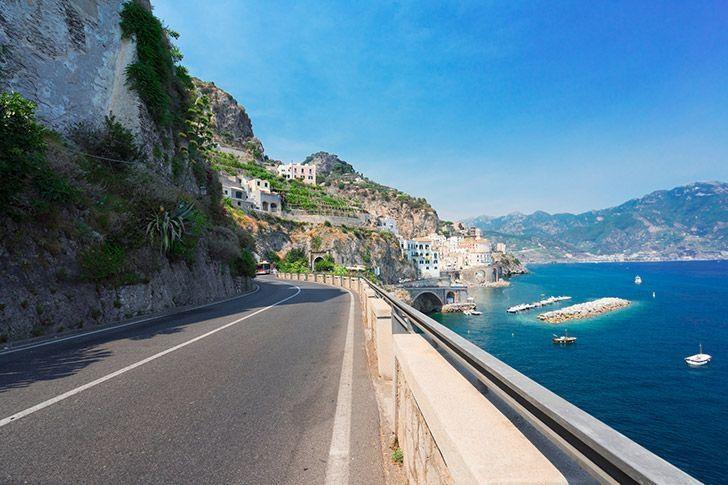 The Amalfi Coast drive, (now part of the UNESCO World Heritage Site) is undoubtedly one of the most picturesque drives in the whole of Europe. Therefore, it comes as no surprise that since the 50's it continues to remain a desired film location for Hollywood movies. Beginning in the southern Italian town of Sorrento, the road stretches across the Amalfi Coastline for a total of 50km, concluding in the town of Amalfi in Salerno. Visitors often describe this coastal drive as not only captivating, but also just pure fun! As you cruise down the winding roads along the cliff-side, you'll be granted with incredible views of the deep blue Tyrrhenian sea on one side, and pass numerous local communities settled within the cliffs on the other.
We recommend stopping off and stretching your legs at the culture rich village of Positano to try a refreshing glass of Amalfi Coast's famously home grown Limoncello Liqueur for an authentic taste of Southern Italy. So, if you're looking for a blend of culture and adventure, the Amalfi Coast drive welcomes you!
The Black Forest road/ Schwarzwaldhochstraße – Germany
Distance: 60km/37 miles
Fun Fact: Black Forest provided inspiration for the woodland settings of fairy tales such as Hansel & Gretel, Snow White and Rapunzel.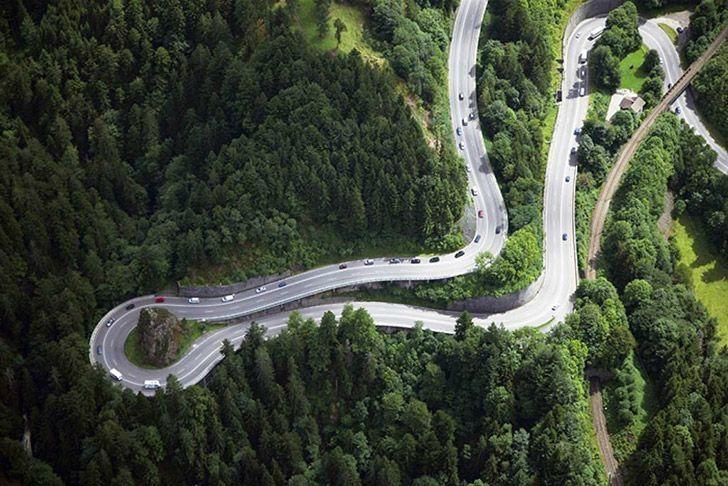 photo credit: http://www.tourism-bw.com/Regions-in-SouthWest-Germany/The-Black-Forest-the-Jewel-of-SouthWest-Germany
Journeying along the Schwarzwaldhochstraße AKA the Black Forest road is a driving experience like no other. The road is situated in south-west Germany, flowing through a wooded mountain range, sitting between 200-1500 meters above sea level. Starting in the town of Baden-Baden it travels across valleys and deep green woodlands. Upon entering Black Forest, you will be immersed in a world of fairy tales and fantasy. You can expect miles of lush greenery sweeping the hills and your route flanked with towering pine trees as you pass age-old villages, in particular Sasbachwalden, recently named the most beautiful German village and also famous for its wine production and half-timbered houses. The road generally remains clear, so although you may be tempted to step on the gas, be sure not to shoot past Mummelsee, a deep glacier lake home to mysterious legends. This is a stop you don't want to miss!
As you conclude your journey in FreudenStadt, it is here where you can finally park your car and head up on foot to the observation decks for breath-taking views of Black Forest in its entirety.
Route Gentelly / Alpes Maritimes – France
Distance: 19.3km/12 miles
Fun Fact: Famously driven through by James Bond in Goldeneye (1995)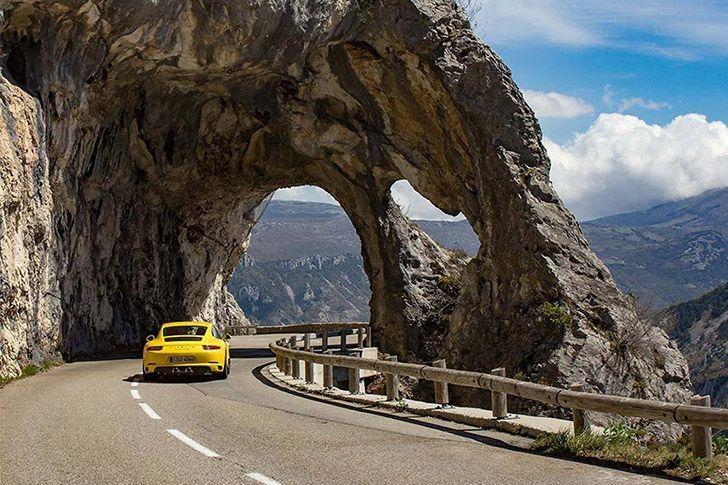 photo credit: http://www.colcorsa.com
The spectacular Route Gentelly begins in the town of Vence, within the hills of the Alpes Maritimes. Though a relatively short pass, it offers a great journey with so much to see as it joins the D2 route. The mountain pass provides various hairpin twists and turns with fresh views of the valley below at every corner resulting in a truly thrilling ride! Soon you will find yourself quickly ascending further to Col de Vence, at an altitude of just over 3000 feet where stunning carved arches and interesting rock formations await you as you pass through the mountains.
On your descent, the road will lead you towards the small village of Gréoliéres, a great stop off if you wish to see ancient castle ruins, medieval buildings and learn about the village's historical influence.
The journey will come to an end approximately 50 km later via the D2 route in Valderoure, a town in south-east France where if you wish, you can continue your exploration off road in the form of some exciting outdoor activities such as hiking trips or rafting.
Simplon Pass – Switzerland
Distance: 35km/21 miles
Fun Fact: This road was used as a trade route by Napoleon in the 19th century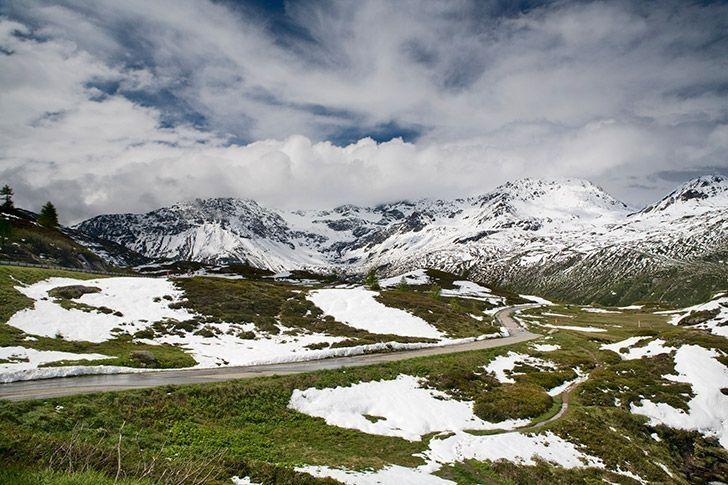 Often described as the most beautiful crossing in the Alps, the Simplon Pass certainly is an unforgettable road trip. With a total length of 35km and sitting 6578 feet above sea level, this route links Brig in Valais to Domodossola in neighbouring country, Italy. The route boasts first hand views of Monte Leone, the highest mountain in the Lepontine Alps, which rests on the border between Switzerland and Italy.
As you pass the mountain and continue north towards Brig, you may notice a change in landscape, from rocky roads and brown hills to more green pines and grass fields. This becomes prominent as you cross over the Ganter bridge (Ganterbrücke). At 678 meters long, it holds the title of the longest spanning bridge in Switzerland. While crossing be prepared to see picture perfect views of the mountainous surroundings.
It may not be the smoothest ride in the world, but it is undeniably worth the views. And soon you will find yourself pulling up into the lovely town of Brig, where you can get involved in some winter outdoor activities or sit down for lunch at a traditional Swizz inn.
Dorset Jurassic Coast - UK
Distance: 96 miles/154 km
Fun Fact: The coast is home to fossils dating as far back as 185 million years!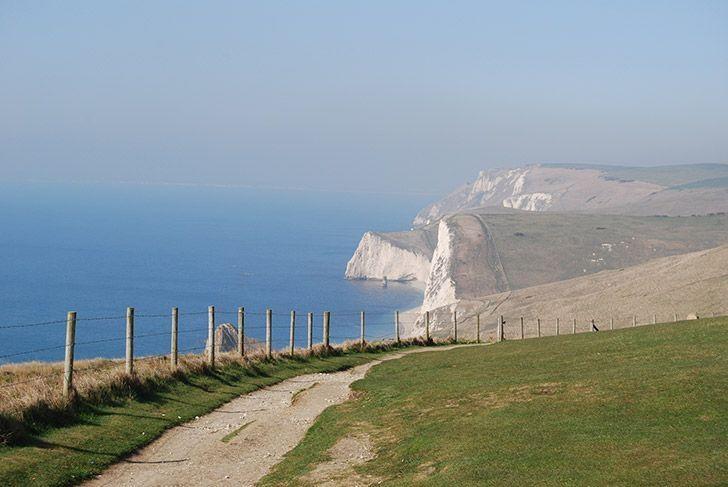 Drive through pre-historic times across the Dorset Jurassic Coast, a listed World Heritage Site. Rich with fossils from the Jurassic period, it is also recognised as one of the most stunning coastal views in the UK, and with good reason. Your drive along the coast will highlight the sheer contrast between the dramatic white cliffs and fresh green countryside. Due to the nature of the land you will nearly always have views of the rolling hills for miles ahead. As there are plenty of charming historical towns situated along the Jurassic Coast, taking a detour and venturing out is definitely recommended!
With so many photo opportunities on the way you wouldn't want to miss out on any, so simply park up at one of the many vantage points and pause a while. It is definitely worth taking this break to fully soak in the beauty of the ocean and countryside. If you fancy taking a bit of history back with you, head west and sign yourself up to a fascinating fossil walk at Charmouth Heritage Coast centre.
Disclaimer: All prices contained in this article were correct on the original date of publication. Prices may change over time, so for current prices, please get a quote.