If you happen to be going on holiday to the US or Europe be sure to check out some of these extremely weird themed restaurants and bars (we have some on this side of the pond but they don't meet these guys standards!)
Some of these top themed weird and wonderful restaurant range from earthquake cafes in Spain to toilet themed restaurants in Taiwan. This is a list of our top 8 themed restaurants you wouldn't find in the UK; you'll have to check the pictures to really see just how wacky these places are!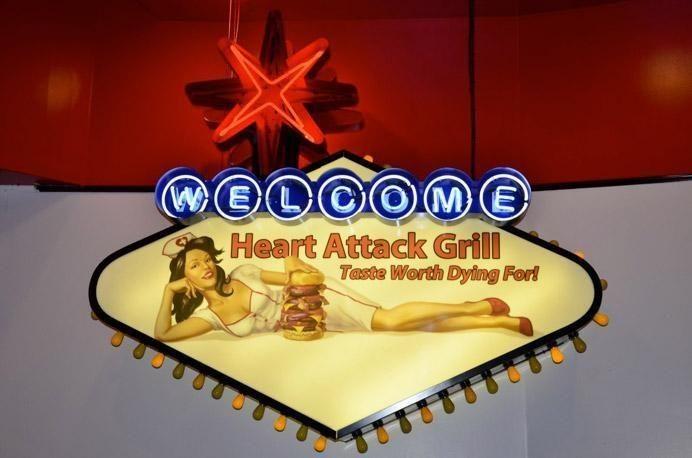 The heart attack grill, based in Las Vegas Old Town, offers food and beverages so unhealthy they could cause 'cardiac arrest"! While you may not actually die from visiting once, you may gain a few pounds.
You are first greeted by a nurse waitress who hands you a hospital gown and seats you, the nurse then sits you down and takes your order, which is supposed to resemble a hospital consultation.
Their burgers, which are notorious throughout Vegas, are named after bypass surgery and vary in size. They start with the Single Bypass burger which contains one burger patty and continue up the scale to the Double Bypass burger, which contains two patties all the way up to the Octuple Bypass burger which contains a whopping 8 patties! And if that wasn't enough, you also have the option to add bacon to these gargantuan burgers. There are five rashers of bacon for every burger patty, so the single comes with 5 slices, the double comes with 10…you get the jist. The menu also boasts a ½ pound Coronary Dog and Flat Liner Fries which they claim are "deep fried in pure lard' as are their onion rings. Their buttermilk shakes are made with butterfat AND served with a lump of butter for good measure! Other drinks include a wine bag, which is served with an IV bag and pole, penicillin shots in a syringe and 100cc pill bottles that are also personalised!
And if that wasn't enough, the Heart Attack Grill has a few more bizarre procedures up its sleeve including:
Guinness World Record for the Highest Calorie Burger, which is their Quadruple Bypass burger, which contains 9,982 calories!
Patrons on the larger side (over 350lbs) eat free!
Those who do not finish their meal receive a paddling by one of the "nurses" with the option to buy the paddle afterwards.
2. H.R. Giger bar, Chur and in Château St. Germain, Gruyéres, Switzerland - http://www.hrgiger.com/barmuseum.htm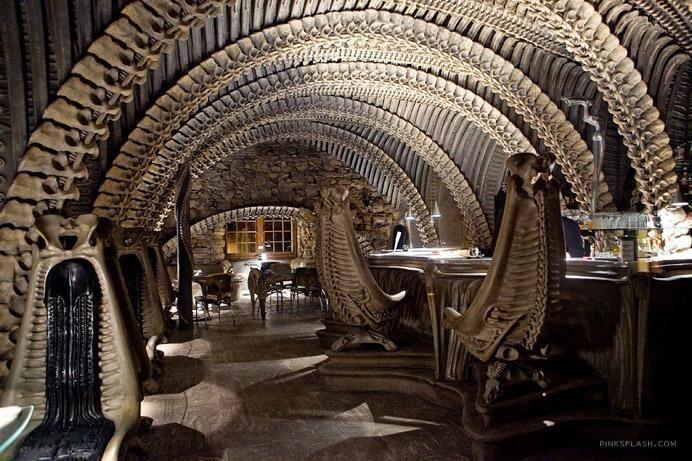 The H.R Giger bar based in Switzerland is a themed bar designed and modelled by Swiss artist H.R Giger. The bar's theme mirrors his biomechanical style as shown in the "Alien' films. If you love the Alien themes or other notable films by the artist you will love the design and feel of this bar. The prominent high-backed chair design was originally intended as a Harkonnen throne for an abandoned Dune film project. They serve an array of drinks and snacks including Absinthe and Alien themed beverages. If you're in Switzerland and a fan of sci-fi, this bar is definitely worth a visit, even if it's just to admire the architecture and ambiance of the bar itself.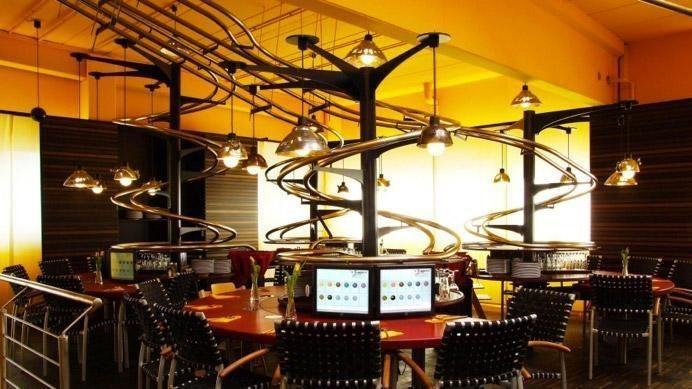 'sBaggers restaurant based in Nuremberg, Germany is a sort of virtual restaurant where orders are placed on touchscreen tablets placed on each table and the food then arrives to you by rollercoaster! There are tracks situated across the entire restaurant and they then finish in the centre of each table where you're food will then be delivered. But don't worry - each plate is numbered accordingly so you shouldn't accidently end up with someone else's food. And for all you technophobes out there don't panic - there are waiting staff on hand if there are any issue with your food, drinks or in the event of mechanical breakdown!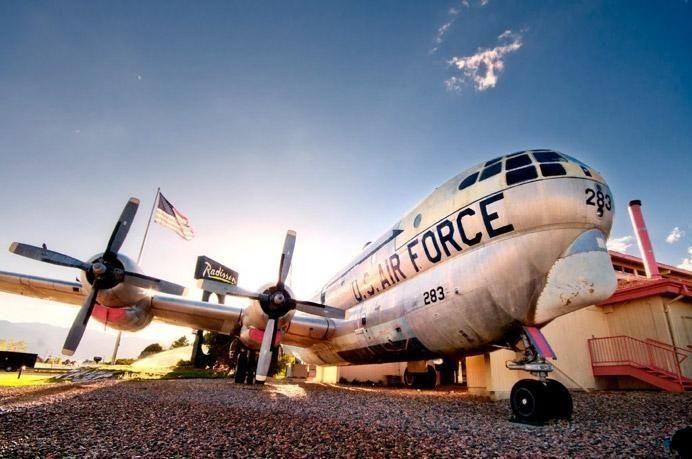 The airplane restaurant based in Colorado Springs, Colorado, offers you the experience to dine on an old Boeing KC-97 warplane. Built in 1953, it is one of the largest piston aircraft ever built by Boeing and only one American-built piston aircraft, the Douglas Globe master, is larger than the KC-97. Whilst you're at the restaurant be sure to visit the cockpit and flight deck and have a play with the controls and buttons of the plane. It is also covered in aviation memorabilia and photos, including a signed photo by photo by Gene Cernan (the last man to walk on the moon). The staff are all dress as flight attendants, as well as acting like flight attendant which definitely ads to the ambiance, this place is a definite for families with children.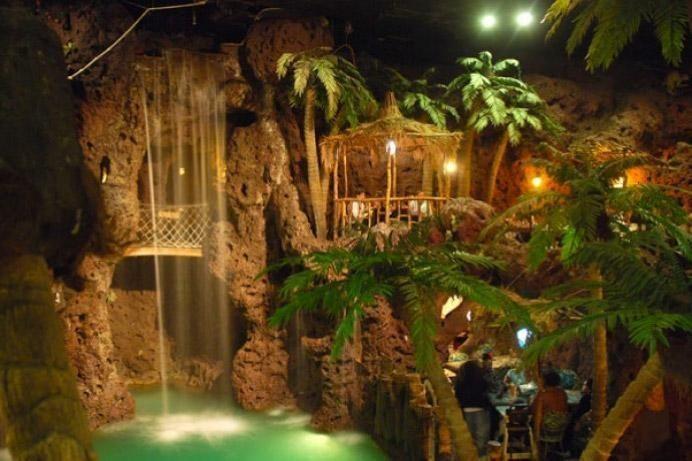 The Casa Bonita based in Lakewood, Colorado, which literally translates to "pretty house" in Spanish, is a Mexican themed entertainment restaurant, which any South Park fans will be familiar with! It offers and array of Mexican food dishes and drinks, including a famous dish called Sopapillas, which is a kind of fried pastry come quick bread and is it is generally served as a dessert with honey poured between its two layers. The main restaurant itself has many iconic features including its famous pink tower façade which is the main outside building and stands at an impressive 85ft. The pink tower is also capped off with an eye-catching dome that's covered with 22 karat gold leaves and features a statue of the last Aztec emperor, Quahuatomec.
The main fountain inside the restaurant was shipped in pieces from Mexico, with the waterfall designed to resemble the cliffs of Acapulco. The waterfall is 30ft in height with its pool reaching depths of up to 14 feet.
The whole building boasts over 2,500 sq. ft. and seats over 1,000 guests. It also has over 30 attractions inside that include puppet shows, arcade games, El Mercado, cliff divers, magic shows, gorilla shows, the Casa Bonitas gift shop and the Black Barts Cave.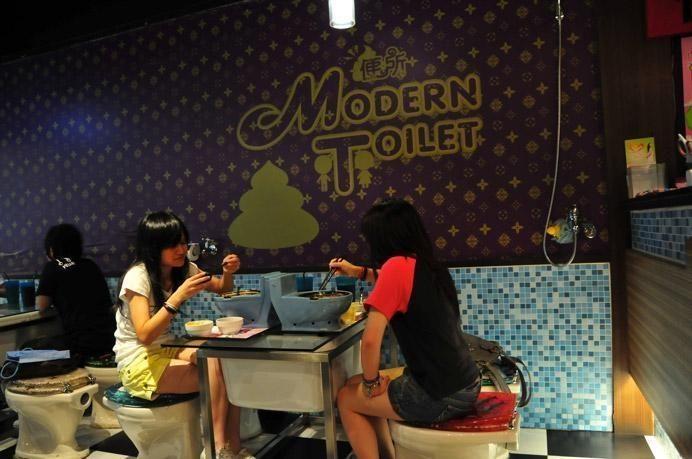 The Modern Toilet restaurant based in Taipei, Taiwan is a bathroom themed chain of restaurants that can be found across Taiwan. According to their website they are a group of "muckrakers" following their dreams". They originally started out by just mainly selling ice cream; big piles of chocolate ice cream that was served in containers shaped like squat toilets. The restaurant immediately caused a stir in Taiwan with its humorous "out-there" design. Everything in the 2,800-square-foot, three story restaurant is based on items you would primarily see in a bathroom. The checked tile walls are adorned with showerheads for décor as well as plungers hanging from the ceiling. The chairs are real toilets, not in use obviously, and the tables are bathroom sinks and baths covered with glass on top.
Dishes are served on plastic miniature plastic toilet bowls, drinks are served in miniature urinals, which the customers can also take home with them and desserts are served in mini squat toilets. And if you're not all flushed by the end of your meal, there's also a little souvenir section you can visit on departure.
7. Disaster Café in Lloret de Mar, Spain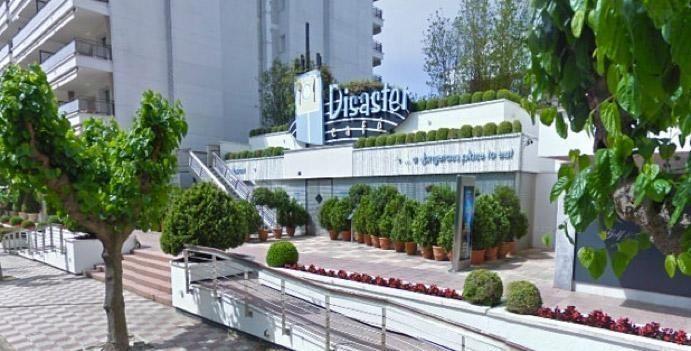 Disaster Café, based in Lloret de Mar, Spain, offers a very unique eating experience! Don't be fooled by the exterior as on the outside it looks like a restaurant that is until you step inside then the disaster strikes, patrons are taken into an elevator to a cave-like restaurant area AKA "The depth of earth".
Once in "The depth of earth" you are then seated and your order taken…now the real experience begins! While in "The depth of earth" you'll find yourself at the epicentre of an earthquake of a magnitude of 7.8! But don't expect it to only occur once! Like real life earthquakes the ones experienced in here can occur at any time, numerous times and for as long as they want; imagine that while you're trying to enjoy your dinner!
Employees have to wear hardhats and safety equipment to avoid injury during their shifts, yet diners aren't extended the same courtesy! Having said that, no injuries have occurred during an earthquake to date, although there has been many smashed plates and messy tables. While patrons aren't required to wear safety gear they are advised not to wear their finest glad rags!
8.) Dernier Bar avant la Fin du Monde (Last Bar Before the End of the World), Paris, France - http://www.dernierbar.com/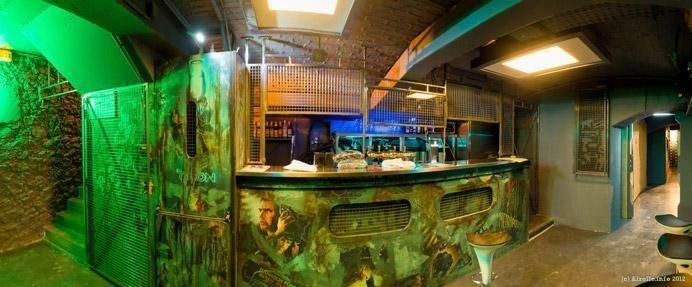 The Dernier Bar, avant la Fin du Monde, which translates to English as the Last Bar Before the End of the World, is a Geek/Sci-Fi themed bar based in Paris which also serve food. The bar is set out across three floors with every floor having a different atmosphere and theme including spaceship, dungeon, board games and comics. The food and drinks served are also themed on iconic films and TV series such as "Bad Wolf" referencing Dr Who, Star Wars, Star Trek, Studio Ghilbli, Firefly, The Hitchhiker's Guide to the Galaxy, Lord of The Rings, Harry Potter and many more! This bar even has a video game in the urinals, plus, the bookshelves are stacked with comics, novels, and tons of tabletop games for patrons
Disclaimer: All prices contained in this article were correct on the original date of publication. Prices may change over time, so for current prices, please get a quote.